Briefing to VA Secretary of Technology Karen Jackson and Sen Mark Warner's staff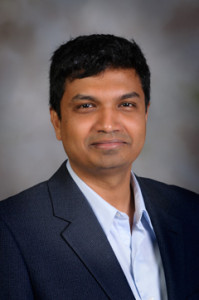 Naren Ramakrishnan, director of the Discovery Analytics Center and Bryan Lewis, public health policy analyst, Network Dynamics and Simulation Science Laboratory, Virginia Bioinformatics Institute, presented research being done in their respective laboratories in a briefing to Virginia Secretary of Technology Karen Jackson. Senator Mark Warner's staff were also in attendance. It was a great opportunity to brief them and present DAC's cutting-edge research in forecasting and analytics.
Karen Jackson, Secretary of Technology for the Commonwealth of Virginia, was welcomed to the Virginia Tech Research Center – Arlington, Monday, Oct. 27, for a briefing on national security and data sciences research taking place in the National Capital Region.
"This visit was an excellent opportunity to brief Secretary Jackson on a number of programs in cyber and national security, data analytics, and complex systems modeling and simulation, including capabilities that could help the Commonwealth prepare and respond to future challenges, such as cyber attacks on critical infrastructure and public health emergencies, such as an Ebola outbreak," said Sanjay Raman, associate vice president for the National Capital Region.