Elaheh Raisi and Bert Huang awarded ACM/IEEE Best Paper Award at Sydney conference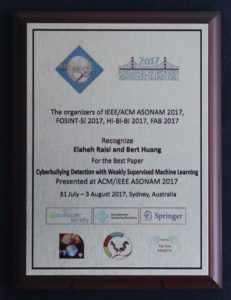 Elaheh Raisi, a computer science Ph.D. student in the Discovery Analytics Center and her advisor, Bert Huang, assistant professor in the Department of Computer Science, were recently honored with the Best Paper Award at the 2017 IEEE/Association for Computing Machinery International Conference on Advances in Social Networks Analysis and Mining (ASONAM), in Sydney, Australia.
In the paper, entitled "Cyberbullying Detection with Weakly Supervised Machine Learning," Raisi and Huang propose a machine learning method for simultaneously inferring user roles in harassment-based bullying and new vocabulary indicators of bullying. The learning algorithm considers social structure and infers which users tend to bully and which tend to be victimized. The model estimates whether each social interaction is bullying based on who participates and based on what language is used, and it tries to maximize the agreement between these estimates. The two researchers then evaluate participant vocabulary consistency on three social media data sets, demonstrating quantitatively and qualitatively its effectiveness in cyberbullying detection.
Raisi works at the Machine Learning Lab. Her research interests include machine learning, data mining, and social networks.
Huang's research investigates machine learning, with a focus on analyzing complex systems. His work addresses topics including structured prediction, probabilistic graphical models, and computational social science.
The international conference on Advances in Social Network Analysis and Mining provides an interdisciplinary venue that brings together practitioners and researchers from a variety of SNAM fields to promote collaborations and exchange of ideas and practices. The 2017 conference addressed important aspects with a specific focus on the emerging trends and industry needs associated with social networking analysis and mining and solicited experimental and theoretical works on social network analysis and mining along with their application to real life situations.
Full papers were reviewed and assessed by the program committee to determine the "Best Paper Award" winner.